Abdominoplasty (tummy tuck)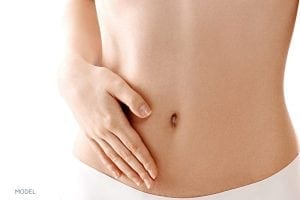 If you are struggling to achieve the firm and toned abdominal contour you desire, it's not your fault. Genetics, weightloss,and pregnancy can make our bodies more prone to developing excess tissue around the abdomen that obscures attractive definition. Tummy tuck surgery is designed to provide you with dramatic abdominal contouring results that will revitalize your appearance.
Candidates
If you are in good health and feel that your abdomen lacks tone, a tummy tuck can help. We tailor each tummy tuck to enhance your physical characteristics and give you the body shape you desire. You will work closely with your surgeon to determine which tummy tuck elements are necessary for your procedure. We recommend that patients with excess abdominal fat and sagging skin or weak muscles consider combining liposuction with their tummy tuck.
Procedure
Tummy tuck surgery is an outpatient procedure, and the length of the procedure will vary depending on the type of correction needed. Most patients are put under general anesthesia for their operation, but other sedation techniques may be used. All aspects of your tummy tuck are customized to your body and aesthetic goals.
Traditional
A traditional tummy tuck is ideal for people with general abdominal laxity. You may have general abdominal skin looseness and muscle weakness. A traditional technique involves creating two incisions: one low in the pubic area, and a second one around the navel. Excess skin is trimmed away, and sutures are used to tighten the muscles.
Mini
A mini tummy tuck is most suitable for patients with minimal abdominal weakness and minimal skin laxity. During a mini tummy tuck, only one incision is created along the bikini line. Through this incision, the weakened muscles are tightened, and abdominal skin is trimmed for a more defined contour.
Extended
An extended tummy tuck is typically reserved for people who have undergone dramatic weight loss that has left them with folds of excess skin. This procedure may be performed in combination with other lower body lift procedures to achieve optimal results. An extended technique requires a longer incision that runs along the pubic area, over the hips, and possibly onto the back. We use this incision to remove excess skin and enhance your body shape.
Recovery
You will experience some bruising and swelling following your tummy tuck procedure. We offer our patients the option to stay the night at Comfort Cottage with a nurse available for any necessary assistance. Wearing a compression garment throughout your recovery will help minimize swelling and maximize your results. Most patients can return to light work within two to four weeks and resume their regular exercise routine at six weeks.
Risks and Results
Abdominoplasty, like all surgeries, does pose some minor risks including infection, hematoma, blood clots, scarring, and seromas. However, once your initial recovery is over, your risk of future complications is very low. Your tummy tuck shouldprovide you with outstanding results. To maintain your new physique, you should live a healthy lifestyle that includes a nutritious diet and adequate exercise.