ThermiVa® Vaginal Rejuvenation in High Point, NC
Many characteristics define a woman's femininity; for some, it's their long silky hair or perky breasts. For others, it might be their sensual curves or round buttocks. However, there is another area of the body that many women consider asking their doctor about but may be too embarrassed to bring it up.
This aspect of femininity is the vagina, and it can impact a woman's sense of self and sensuality. When concerns about vaginal health and appearance arise, so can a variety of problematic issues.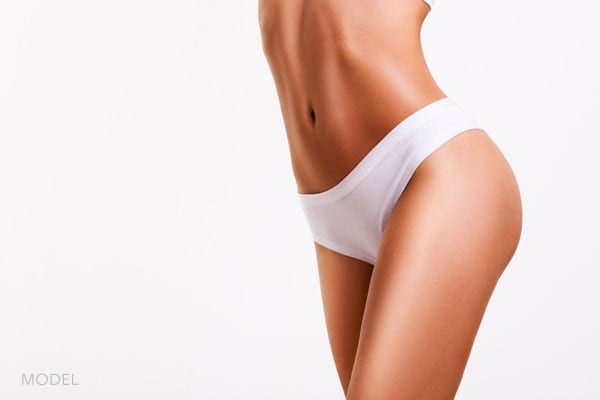 Times have changed, and there is no shame in seeking help for your feminine health, whether you have concerns due to enlarged or asymmetrical labia or vaginal dryness. At Piedmont Plastic Surgery in High Point, North Carolina, we offer ThermiVa® to address this and other vaginal issues.
ThermiVa® is a state-of-the-art, non-surgical treatment for women seeking feminine rejuvenation without labiaplasty surgery. Our highly skilled and compassionate team knows how to ease any anxiety you feel, making vaginal rejuvenation with ThermiVa® as comfortable as receiving a facial.
What Is ThermiVa®?
Designed by Thermi Aesthetics, ThermiVa® is a safe, non-surgical treatment designed to address concerns with both the internal and external vaginal tissues. This procedure is used to help restore the appearance of the labia and tighten the vaginal canal using a gentle curve-shaped device that delivers radiofrequency waves.
ThermiVa® treats the vulva by carefully heating the inner and outer vulvovaginal tissue to tighten the vagina and labia.
Am I a Candidate for ThermiVa®?
This advanced treatment has some advantages over labiaplasty as it works both externally and internally for additional benefits, which include the following:
Tighter vaginal tissues: Treatment with ThermiVa® results in tighter, smoother skin and relief from a host of feminine symptoms.
Increased vaginal lubrication: After ThermiVa® treatments, many women who have suffered from pain and dryness during intercourse have found significant improvement without hormone treatments.
Reduced vaginal dryness caused by birth control pills: Some women experience significant dryness in response to their contraceptive. These treatments are designed to enhance vaginal sensitivity, even if the cause of vaginal dryness is birth control pills or hormones.
Better bladder control: When ThermiVa® treatments are combined with Kegel exercises, patients can strengthen the vaginal walls, which reduces urinary urgency and helps them avoid embarrassing leaks.
Labia rejuvenation: ThermiVa® treatment provides smoother labia tissues and increased confidence.
Improved sexual function: This treatment also improves muscle control and can successfully rejuvenate the vagina to enhance sensation and improve sexual pleasure.
Good candidates for ThermiVa® desire a convenient, non-surgical vaginal rejuvenation method with the above benefits and no downtime.
Women should be in good health overall and not be pregnant or trying to become pregnant. ThermiVa® is also an excellent option for women who have problems with anesthesia.
How Long Should I Wait After Giving Birth to Get ThermiVa® Treatments?
If you had a normal vaginal delivery, we recommend waiting at least six weeks after delivery before seeking vaginal rejuvenation through ThermiVa®. Dr. Willard recommends that women who had complications during their deliveries get clearance from their OB/GYN.
Why Should I Choose Piedmont Plastic Surgery for My Vaginal Rejuvenation?
Dr. Willard and the team at Piedmont Plastic Surgery are committed to helping our patients live their best lives. We believe that enhancing an individual's personal aesthetic and improving their health is our calling.
When you arrive at our High Point plastic surgery practice, you immediately become part of the Piedmont family and can count on being treated that way. There is nothing that makes us happier than a satisfied patient. When it comes to treatment with ThermiVa®, you can trust the team at Piedmont Plastic Surgery to answer your questions directly and clearly.
Call us today at 366-886-1667 to learn whether ThermiVa® treatments are right for you.
How Is Treatment With ThermiVa® Performed?
ThermiVa® treatment is performed by one of our nurses on an outpatient basis and takes between 15 and 45 minutes to complete with no anesthesia, shots, or downtime involved.
This temperature-controlled treatment uses a small device that is inserted into the vagina and radiates gentle heat with radiofrequency energy. The heat and energy produced by ThermiVa® cause tissues to contract, tightening the vaginal walls, and can also be used on the external vaginal area to help reduce and remodel the labia. All you should feel is a gentle warmth with this quick, safe, and painless treatment.
Should I Combine ThermiVa® With Another Procedure?
Some women choose to undergo labiaplasty surgery to address the external area of their vagina and then use ThermiVa® to improve the condition of their vaginal walls and treat incontinence issues.
Labiaplasty is also an option to include in a Mommy Makeover, but ThermiVa® can be used instead for qualifying candidates. Because ThermiVa® is a non-surgical treatment, it will be performed before your Mommy Makeover or after recovery.
How Much Does ThermiVa® Cost in High Point, NC?
The cost of ThermiVa® varies depending on your needs and typically ranges from $2,000 to $3,700 with the recommended minimum of three sessions. We will provide an accurate cost quote at the end of your consultation and offer financing options.
How Should I Prepare for My ThermiVa® Treatment?
While it is best to avoid waxing for at least a week before your session, we do recommend shaving or trimming your pubic hair three to five days prior to treatment. Ensure that you are well hydrated by drinking plenty of water on the day of your ThermiVa® session.
Should I Quit Smoking Before My ThermiVa® Session?
Caffeine, alcohol, and nicotine cause reduced blood flow and can interfere with your healing and results. If you're a smoker, do your best not to smoke the day before, the day of, and the day after you receive this treatment, and refrain from consuming caffeine or alcohol four hours before your appointment.
Is There a Recovery Period After ThermiVa® Treatment?
There is no recovery or downtime associated with ThermiVa®. Some women experience minor spotting for a few days following treatment, but there should be no pain or cramping. You may experience swelling and warmth after your ThermiVa® session, but this should subside quickly.
You can resume your normal activities immediately, including sexual activity, swimming, and the use of hot tubs—unless you have rare spotting episodes. In those cases, you should wait for one or two days.
Are There Risks With ThermiVa®?
Adverse side effects from ThermiVa® treatment are very rare but may include burns, pain, and infection. By being honest during your consultation and notifying us of any potential vaginal or urinary tract infections and open or healing wounds, you can help avoid these negative complications.
What Happens if I Experience Side-Effects After My ThermiVa® Treatment?
All procedures and treatments performed at Piedmont Plastic Surgery or Saving Face MedSpa are performed or supervised by Dr. Willard. If you experience an unexpected complication after your ThermiVa® treatment, call us immediately, and we will help you get it resolved quickly.
Will My ThermiVa® Results Be Permanent?
You should start to see your results in about three months, with improvement continuing for six or more months after your last treatment. Final results should include softer and smoother-looking vaginal skin, with effects lasting from nine to 12 months.
To maintain your results, we recommend yearly ThermiVa® treatments to help prevent further unwanted changes to your vaginal tissues.
Piedmont Plastic Surgery also offers labiaplasty for patients who want a more permanent solution, are finished having children, and don't mind undergoing surgery.