Brachioplasty (arm lift)
Loose and saggy skin can begin to form around our arms due to a lack of elasticity caused by weight loss, genetics, or aging. Brachioplasty, or arm lift surgery, is a procedure that removes and cuts away sagging fat and loose skin on the underside of the upper arms. By tightening and smoothing out the underlying tissues of the arm, brachioplasty can give your arms a more firm and youthful appearance.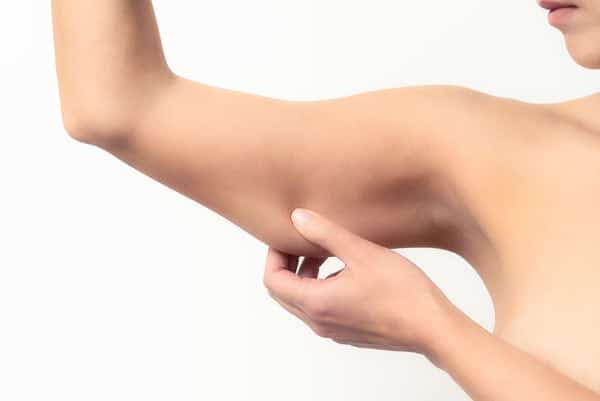 Candidates
Ideal candidates who wish to undergo brachioplasty can treat
one or more of the following issues:
Sagging arm skin
Unwanted fat deposits
Loose or weak supportive arm tissue
Procedure
Brachioplasty is an outpatient procedure that can typically take up to two hours. You will schedule a consultation with your surgeon who will evaluate your general health and any pre-existing conditions that could indicate any risks, and a decision will be made regarding your treatment.
At the time of the procedure, general anesthesia or intravenous sedation will be administered. One or more incisions are then made on either the inside or back of the arm that extend from the axilla (underarm). In some cases, brachioplasty may need to be treated with liposuction.
Once all fat has been removed from the arms, your incisions will be closed using absorbable sutures or stitches. This will allow for the underlying supportive tissue on the arms to be tightened and reshaped while the skin is smoothed over. If necessary, you may request to make accommodations to spend the night at our Comfort Cottage with a nurse available to help you.
Recovery and Results
Following your brachioplasty procedure, dressings or bandages will be placed on the incisions, and your arms may be wrapped with an elastic bandage or compression garment to help minimize bruising and swelling. A temporary tube may be placed under your skin to help drain any excess fluid or blood.
Be sure to follow every instruction your surgeon specifically provides you when draining and caring for your incisions. If pain medication is prescribed, ensure you are taking the appropriate amount of dosage at the right times to minimize discomfort.
You may be able to return to your normal activities within two to three weeks. If concerns or issues arise, make sure to follow up with your surgeon.
Side Effects and Risks
You might experience some temporary discomfort and swelling after your surgery. Brachioplasty may result in permanent scarring and can involve a few minor risks, which can include:
Infection
Bleeding
Wider or thicker scarring
Numbness
Poor healing
Fluid accumulation
Disclaimer
Here at Piedmont Plastic Surgery, our team ensures every procedure is uniquely tailored to meet every patient's expectation. During your consultation, Dr. Willard will give you specific information and instructions regarding your procedure and how the results may vary.