Liposuction in High Point, NC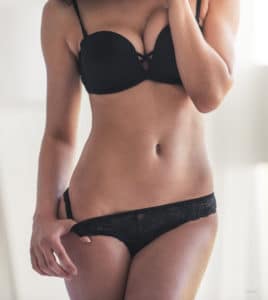 Even with proper diet and exercise, fat pockets can be left on the body that seem impossible to remove. This can be frustrating; you are doing everything right, but you still cannot achieve your body sculpting goals. Liposuction works to remove the stubborn fat pockets that accumulate in areas such as the abdomen, hips, thighs, arms, and even the neck.
Am I an Ideal Candidate for Liposuction?
Although liposuction removes unwanted fat pockets around the body, it is not a weight-loss surgery and is not an alternative to a healthy lifestyle. Liposuction works best when targeting localized fat pockets in patients who will be diligent in maintaining their results.
During your consultation with Dr. Willard, he may perform a physical examination to determine if liposuction surgery is right for you. He will assess your needs and goals for the procedure to create a personalized surgical plan. Ideal candidates for liposuction surgery do not smoke, are in generally good health, have good skin elasticity, and have realistic expectations of their results.
During your consultation, Dr. Willard will also help you determine which areas of your body should be treated with liposuction to provide you with optimal results. Common areas for liposuction treatment include the:
Stomach
Chest (for men with gynecomastia)
Thighs
Hips
Back
Arms
Buttocks
Neck
How Is Liposuction Performed?
Anesthesia
The type of anesthesia used for liposuction varies between patients based on the severity of the correction needed. Liposuction is typically performed under general anesthesia or IV sedation to ensure your comfort and safety throughout the procedure. However, some patients do not feel comfortable being sedated. In this case, liposuction can be performed using Pro-Nox™, a form of nitrous oxide (laughing gas). Dr. Willard has performed over 500 procedures using this technique.
Speak with Dr. Willard during your consultation if you have concerns regarding the type of anesthesia used for your surgery.
Incisions
Small incisions are made at or near the areas of your body being treated with liposuction. Since incisions are required to perform liposuction, scarring is inevitable; however, the incisions are extremely small, and scars can typically be concealed with clothing. Scars will also fade over time and may not be noticeable at all.
Liposuction Techniques
Liposuction works by inserting a small, thin tube called a cannula, connected to a vacuum in the treatment areas to suction the fat from your body.
Tumescent liposuction is the most common liposuction technique. A tumescent fluid is injected into the treatment areas to break up the fat deposits before inserting the cannula, making them easier to remove.
Ultrasound-assisted liposuction uses ultrasound energy to liquefy fat deposits before removal. This technique is used to minimize bruising and swelling and is beneficial for those with little skin laxity,
Non-surgical techniques
SculpSureⓇ works by using laser energy to heat the fat cells. This heat causes the fat cells to melt away without the use of incisions.
These non-surgical options are perfect for those who need minimal correction and wish to remove excess fat non-invasively.
What Is the Recovery Like From Liposuction?
After your liposuction procedure, you may experience pain, discomfort, swelling, and bruising. This is normal and will subside after a few days. You may take over-the-counter or prescription pain medication as needed to help combat discomfort throughout your recovery. A compression garment will be worn to help minimize swelling and promote circulation. Many liposuction patients can return to work and other important obligations after a few days. Liposuction patients can typically resume exercise after six weeks. The non-invasive liposuction techniques require no downtime.
When Will I See My Liposuction Results?
The results of liposuction surgery typically start to show immediately; however, your full results will begin to show once bruising and swelling has subsided. If you are undergoing one of the non-invasive liposuction techniques, you may need more than one session to see and enjoy your results.
How Much Does Liposuction Surgery Cost?
The cost of liposuction varies between patients depending on the number and size of the treatment areas, the amount of correction needed, and surgical techniques used. The cost also depends on surgeon fees, anesthesia fees, and the location of the procedure. To receive a detailed financial estimate based on your needs and goals for liposuction, schedule a consultation with Dr. Willard.
Frequently Asked Questions About Liposuction?
Is liposuction dangerous?
Liposuction is one of the most common plastic surgery procedures performed every year and is generally safe. However, with all surgery, risks are present. These risks include:
Numbness
Fluid accumulation
Anesthesia risks
Infection
Bleeding
Unfavorable scarring
How can I prepare for liposuction?
To prepare for your liposuction procedure, you should stop smoking (including all tobacco use) and taking anti-inflammatory medications. Do not take aspirin.
Please let your surgeon know ahead of time what medications you are taking to determine if any will interfere with your surgery. You should also plan to bring a responsible adult with you to your appointment to drive you home and assist with your recovery.
Can liposuction be combined with any other procedures?
Liposuction is commonly performed in conjunction with other body contouring procedures to provide patients with their ideal look. Common procedures done in combination with liposuction include:
Additionally, liposuction may be performed as part of a Mommy Makeover. Speak with Dr. Willard to determine if any combination procedures are right for you.
Interested in Liposuction in High Point, NC?
If you are interested in liposuction, please call our office at 336-886-1667 or fill out our online contact form.