Liposuction in High Point, NC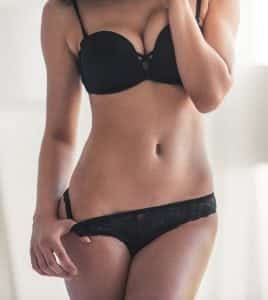 Fat accumulates in many different regions of the body due to genetics, age, and lifestyle choices. These fat deposits can be challenging to eliminate through diet and exercise and may cause patients to feel uncomfortable in certain types of clothing or insecure about their physical appearance. Liposuction in High Point, NC removes fat from nearly any region of the body and restores sculpted and defined curves.
Candidates
Men and women considering liposuction should be in good overall health and have realistic expectations for their procedure. Patients interested in liposuction must have good skin elasticity—patients with tissue laxity may be better served by combining liposuction with a skin tightening treatment. High Point, NC Liposuction can remove fat from one or more of the following areas:
Abdomen
Waist
Hips
Thighs
Arms
Neck
Back
Chest
Knees
Ankles
Procedure
Anesthesia
Liposuction in High Point, NC is performed using one of several anesthetic options depending on the severity of your condition and your personal preference. General anesthesia or IV sedation is often preferred to ensure safety and a pain-free experience. However, not all patients feel comfortable with sedation. Liposuction can be performed using a combination of medications and pain relievers. For this option, patients are given a combination of pain medications, nausea medications, antibiotics, Pro-Nox™ (laughing gas), and numbing agents. We have found this to be a wonderful option.
Incisions
Liposuction incisions are placed in the natural creases of the body or areas that are easily concealed with clothing. These small incisions will heal well and leave little, if anything, in the way of noticeable scarring.
Liposuction Techniques
A thin cannula is inserted into the tissues under the skin through the incisions and moved back and forth to vacuum out the unwanted fat cells from the treatment areas. This process enhances natural-looking definition. Your liposuction treatment will be performed using one of the following techniques:
Tumescent Liposuction: This method injects a tumescent fluid into the treatment area to break up the fat deposits before the cannula is inserted, making them easier to remove. This step minimizes postoperative bruising, swelling, and pain.
Ultrasound-assisted Liposuction: This technique uses ultrasound energy to liquefy the fat prior to removal. Ultrasound-assisted liposuction also reduces bruising and can promote skin contraction for patients with minimal skin laxity.
Non-surgical Options
BTL Vanquish ME™: This non-surgical technique applies radiofrequency energy to heat the fat cells, which causes them to shrink, die, and be processed out of the body naturally. This technique can sculpt the area around your midsection without the need for invasive incisions.
SculpSure®: This technique offers non-surgical liposuction by using laser energy to heat and injure the fat cells. Laser liposuction causes fat cells to melt away without requiring incisions or downtime.
Both of these options typically reduce the volume of fat by about 20 percent. They are best used when the area of fat reduction is relatively small.
Recovery After Liposuction
Liposuction patients can expect bruising and swelling in the treated regions. A liposuction compression garment will be worn to help minimize swelling, promote circulation, and facilitate the healing process. Most of the discomfort will remedy itself over the following days and can be further alleviated with oral pain medication. Liposuction patients return to work after a few days and resume all regular exercise after six weeks. This treatment has a low rate of complications; however, there are potential risks that include infection, bleeding, asymmetry, the rippling of the skin, or changes in pigmentation.
Non-surgical liposuction requires no downtime or recovery.
Results
Liposuction results begin to show immediately; however, the full effects will become visible once all of the bruising and swelling has subsided. This can take anywhere from a few weeks to a few months. Patients undergoing the BTL Vanquish ME™ or SculpSure® usually require three treatments spaced one month apart.
Following liposuction, patients can expect tighter, slimmer, and more defined body contours that can be maintained with a healthy lifestyle.