Breast Reduction in High Point, NC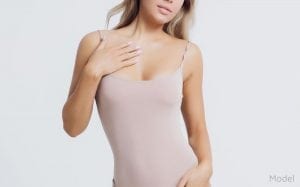 For some women, large breasts can impact their physical comfort and emotional well-being. Disproportionately sized breasts can negatively affect a woman's ability to engage in some of the ordinary activities she loves; additionally, chronic neck and back pain are negative side effects that can come with large breasts. Cumbersome breasts may lack attractive shape or positioning. Breast reduction surgery improves the size, shape, and positioning of larger breasts by removing tissue and sculpting a new, pleasing appearance.
Am I a Candidate for Breast Reduction?
You should be in good health and have realistic expectations about your breast reduction results. You may be considering breast reduction surgery for one or more of the following reasons:
Your weighty breasts cause chronic neck and back pain.
You cannot engage in some activities due to physical or social discomfort caused by your breasts.
Your large breasts have a pendulous, sagging shape.
You desire breasts that are more proportional to the rest of your frame.
How Is Breast Reduction Performed?
Breast reduction surgery is an outpatient procedure that is performed in two to three hours. In most cases, the patient is placed under general anesthesia. Every breast reduction procedure is tailored to the needs of the patient, and a variety of techniques may be implemented in addition to tissue removal.
What Are My Breast Reduction Incision Options?
Lollipop: An incision made around the areola and vertically down the lower breast tissue

Used in cases of moderate reduction

Anchor: Creates an incision similar to a lollipop but includes an additional line across the natural breast crease

Used in cases of moderate or severe reduction
Will a Breast Lift Be Performed With My Breast Reduction?
A breast lift procedure is combined with reduction surgery. Not only do we remove excess skin and fat from the breasts, but the remaining tissue is repositioned on the chest. This process creates a more attractive breast shape while placing it in a more aesthetically pleasing position on the chest.
Is Areola Reduction & Repositioning Performed With My Breast Reduction?
Women with enlarged breasts often have wide or prominent areolas. When we reduce the size of the breast, we also improve the shape of the areola. If your nipple-areolar complex sits low on the breast or points downward, it is repositioned to restore a more natural aesthetic to the breasts.
How Long Is My Breast Reduction Recovery?
Bruising and swelling are typical following breast reduction surgery. A tube top is worn throughout your recovery. We offer our patients a night's stay in our Comfort Cottage, where a nurse is available to help with any concerns. Most patients return to their usual routine after three weeks, but you should avoid heavy lifting for up to six weeks. Your final results will usually show around six weeks after swelling has subsided.
Are There Risks Associated With Breast Reduction?
Breast reduction surgery, like all surgery, does pose some minor risks, including bleeding, infection, scarring, and changes in breast sensitivity. There is a possibility that reduction surgery will impact your ability to breastfeed. Make sure to discuss any needs or concerns you might have with your surgeon if you desire to nurse in the future. Once your initial recovery is over, your risk of complication is significantly reduced.
Is My Breast Reduction Permanent?
Breast reduction provides you with a long-lasting enhancement in your breast appearance. However, future weight gain or pregnancy may cause your breasts to increase in size.
Frequently Asked Questions About Breast Reduction
What are the benefits of breast reduction surgery?
Women who undergo breast reduction experience several long-term benefits and improvements in quality of life. Some benefits include a significant relief from uncomfortable symptoms, such as back, shoulder, and neck pain, increased activity level, improved self-esteem, better sleep, smaller, firmer breasts, and many more positive health and mental benefits.
Is there an age requirement for breast reduction surgery?
Breast reduction may be performed at any age if the patient's breasts have reached full development. In the event the procedure is performed before the breasts are fully mature, the patient should understand that their breasts may continue to grow, and a secondary breast reduction may be desired.
Should I lose weight before or after breast reduction?
It is generally recommended to be close to your ideal weight before your breast reduction procedure for optimal results. This way, it is easier for your surgeon to choose a breast size that matches your body style. Being overweight will also increase the risk of complications making it necessary to take extra measures to ensure you are at a healthy, stable weight for a safe procedure.
Further, if you get a reduction then lose significant weight, you will likely affect the results of your breast shape. As a patient, it is important to include your weight loss goals as part of the surgical decision-making process.
Is breast reduction recommended before having kids?
If you plan to have kids in the future, breast reduction may limit your ability to breastfeed, particularly if the surgery affects the milk ducts.
While many women can preserve the lactating functions of their breasts, it is important to talk to your surgeon about your future plans, as the process of pregnancy and breastfeeding can still cause unpredictable changes in the size and shape of your reduced breasts.
Is there visible scarring?
Like any other surgical procedure, breast reduction involves incisions. While scars are inevitable, it does not necessarily mean you will be stuck with significant scarring. Dr. Willard will carefully place your incisions in inconspicuous areas where scars can be concealed with most swimsuits and bras.
With proper care, your breast reduction scars will fade gradually and become barely visible with time.
Are the results of my breast reduction surgery permanent?
The results of your breast reduction procedure are considered permanent. However, significant weight gain and pregnancy/breastfeeding may cause breast size and shape changes. If necessary, a second breast reduction or lift procedure can be performed to correct the changes and lift the breasts to a more youthful position.
How much does a breast reduction cost?
Your breast reduction cost will vary depending on several factors like surgeon selection, the scope of the procedure, operating facility, surgical expenses, and geographical location. It is worth noting that many facilities have financing options available for patients interested in taking that route.
It is sometimes possible to have insurance contribute towards the cost of breast reductions. It is critical to have notes from a primary care physician that conservative treatments, such as anti-inflammatories and even narcotics, have failed. A note from a chiropractor stating their therapy has failed to relieve pain is extremely helpful also.