ICON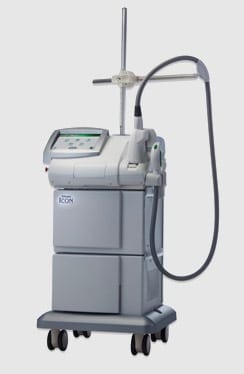 Signs of aging and poor skin texture exist near the surface of the skin. While these signs are problematic, they don't require dramatic correction through surgery. Instead, non-surgical treatments can effectively and efficiently treat many skin issues that people routinely struggle with. The Icon™ Aesthetic System is the next generation of laser technology and is designed to provide patients with comprehensive, non-invasive skin treatments.
Candidates
The Icon™ Aesthetic System can be used to treat one or more of the following issues:
Skin discoloration
Acne and surgical scars
Wrinkles
Leg veins
Excess hair
The Icon™ Aesthetic System Benefits
The Icon™ laser is a high-powered system that provides state-of-the-art cooling for gentle treatments. Its wide selection of handpieces allows for a wide range of treatment options, each of which can be tailored to meet your aesthetic needs. It's proprietary Skintel® Melanin Reader determines average melanin density so that your service provider can customize the depth of your treatment. Benefits of the Icon™ Aesthetic System include:
Advanced Contact Cooling™, which maintains a comfortable skin temperature and protects skin.
Microlenses, which allow you to customize your treatments, increase surface coverage, shorten your procedure time, and achieve a greater depth of penetration.
Photon Recycling™, which maximizes treatment results by reducing energy loss.
AccuSpectrum™, which minimizes unnecessary skin exposure and enhances patient comfort.
, which delivers a more powerful treatment for better quality results.
How the Icon™ Aesthetic System Can Help You
Skin Discoloration
Skin discoloration is often caused by the overproduction of melanin in the tissues. The energy produced by the Icon™ Aesthetic System damages targeted melanin cells. Over a period of time, the cells break down, which results in a reduction in the visibility of skin discoloration.
Wrinkle Reduction
Wrinkles form due to a loss of collagen and elastin in the skin. This collagen loss can result in crow's feet, nasolabial folds, lip lines, and marionette lines. Customized Icon™ laser treatments pinpoint problem areas, and controlled penetration stimulates the production of new collagen. This process helps erase wrinkles and smooth the skin.
Scar Treatment
Both acne scars and surgical scars can benefit from the use of the Icon™ laser. By using fractional laser light, scar tissue is broken down while healthy tissue is produced. This process leaves your scar with an improved tone and texture. This treatment can be used for all skin types and requires three to five sessions.