Gynecomastia (Male Breast Reduction)
/
/
/
Gynecomastia (Male Breast Reduction)
A popular cosmetic procedure for men, Gynecomastia removes excess breast tissue which may be caused by hormones, hereditary conditions, obesity or the use of certain medications.  This procedure leaves a more natural body contour and flatter chest.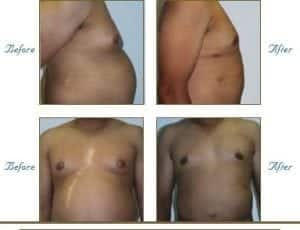 Duration
Male breast reduction takes approximately 1 to 2 hours.
Anesthesia
In many cases, depending on the procedure, you will receive general anesthesia.
In/Outpatient
Your procedure is usually done on an outpatient basis but you may elect to spend the night at Comfort Cottage with a nurse available to help you.
Side Effects
You may experience temporary bruising, swelling, numbness, soreness and a burning sensation.
Risks
There are certain risks with all surgical procedures. In male breast reduction the most common risks include infection, bleeding and fluid retention.
Recovery
You should be able to return to a limited routine within 1 week. More strenuous activity should be avoided for 3 to 4 weeks.
Duration of Results
Male breast reduction is permanent.
Disclaimer
We make sure every procedure is uniquely tailored to provide you the best results. During your consultation you will receive specific information regarding your individual case. Your results will vary.