Face Lift
Our goal is to minimize the damaging effects of the environment by decreasing or eliminating wrinkles and sagging skin on the face and neck. A face lift can take years off the look of your face by removing excess fat, tightening muscles and re-draping the skin. A face lift will give you a fresher, younger look.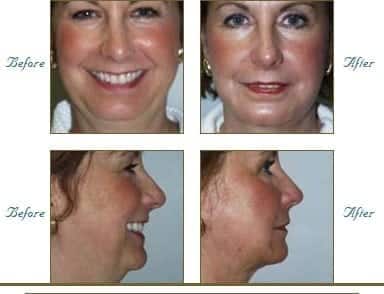 Duration
Your procedure lasts several hours.
Anesthesia
In many cases, depending on the procedure, you will receive general anesthesia.
In/Outpatient
Your procedure is usually done on an outpatient basis but you may elect to spend the night at Comfort Cottage with a nurse available to help you.
Side Effects
Side effects of a facelift are temporary bruising, swelling, numbness and tenderness of the skin. Some patients experience a tight feeling and dry skin. For men, there may be a permanent need to shave behind the ears due to the re-positioning of the skin.
Risks
All surgical procedures carry some risk. The risks involved with a face lift are injury to the nerves that control the facial muscles or feelings which are usually temporary, infection, bleeding, excessive scarring and changes to the hairline.
Recovery
You should be able to resume normal, non-strenuous activity within 2 to 3 weeks.
Duration of Results
Face lifts usually last between 5 and 10 years.
Disclaimer
We make sure every procedure is uniquely tailored to provide you the best results. During your consultation you will receive specific information regarding your individual case. Your results will vary.