Breast Reduction Surgery
/
/
/
Breast Reduction Surgery
Many patients undergo breast reduction to alleviate physical symptoms such as neck and back pain which interfere with their daily life caused by the weight of large breasts. Our goal is to remove excess breast tissue and skin to make your breasts more proportional to your body and improve the size and shape of your breasts.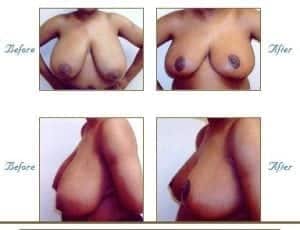 Duration
It generally takes 2 to 4 hours to complete breast reduction.
Anesthesia
General anesthesia is administered during a breast reduction.
In/Outpatient
Your procedure is usually done on an outpatient basis but you may elect to spend the night at Comfort Cottage with a nurse available to help you.
Side Effects
Breast reduction surgery most likely will cause the inability to breast feed in the future. There will be permanent scars or loss of feeling in the breast skin or nipple/areolar complex.
Risks
All surgical procedures carry some risk. With a breast reduction, you could experience bleeding or infection, loss of the nipple/areolar complex or some breast skin.
Recovery
You should be able to return to a normal routine within 3 to 6 weeks. Heavy lifting should be avoided for 6 weeks.
Duration of Results
Breast reduction is permanent.
Disclaimer
We make sure every procedure is uniquely tailored to provide you the best results. During your consultation you will receive specific information regarding your individual case. Your results will vary.