Otoplasty (ear surgery)
/
/
/
Otoplasty (ear surgery)
We are able to restructure your ears for a less pronounced look. Otoplasty sets prominent ears closer to the head. Children over the age of five often have this procedure done.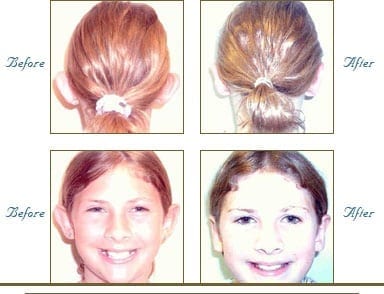 Duration
Otoplasty typically takes between 2 and 3 hours.
Anesthesia
Young children will receive general anesthesia. Older children and adults will be sedated and receive local anesthesia.
In/Outpatient
Your procedure is usually done on an outpatient basis but you may elect to spend the night at Comfort Cottage with a nurse available to help you.
Side Effects
You may have temporary throbbing, aching, swelling, redness or numbness with otoplasty.
Risks
As with any surgical procedure, there are some associated risks. These risks include infection, scarring, blood clots, mismatched ears or recurrence of the protrusion.
Recovery
You should be able to return to a normal routine within a week. Strenuous activity, including sports, should be avoided for up to 2 months.
Duration of Results
You should have permanent results from otoplasty.
Disclaimer
We make sure every procedure is uniquely tailored to provide you the best results. During your consultation you will receive specific information regarding your individual case. Your results will vary.